Send money abroad with no bank account and without getting ripped off. Just go to a 24hours shop around the corner and use a easy and cheap money transfer service. A innovative fintech startup based in Hong Kong is using bitcoin technology to offer this kind of service.
Launched in late-2014, Bitspark, a bitcoin remittance startup offers end-to-end cash remittances using bitcoin. The startup is targeting emerging markets, with a particular focus on Asia. Bitspark has already deployed its service for remittances between Hong Kong and the Philippines, and most recently between Hong Kong and Indonesia.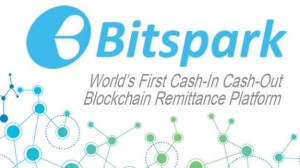 Its selling point is that users do not need to have knowledge of bitcoin. Although bitcoin does serve as the primary medium for transactions, it never enters the equation for the customer. Users don't need a bitcoin wallet nor a bank account, actually
Bitspark connects offline businesses (corner store remittance shops) and online business to "unbanked customers" via its on-the-ground network providers. As of the commission fees, Bitstark charges less than 1%.
George Harrap, CEO of Bitspark writes in his Blog:
this marks the beginning of a new trend in financial services and shows that the banking industry is "ready to engage in the cryptocurrency and blockchain technology.
Pitch on Next Banking Asia / Innotribe Singapore
'Rebittances'
According to the World Bank, remittances to the developing world are expected to reach US$440 billion in 2015, an increase of 0.9% over the previous year.
The East Asia and Pacific region alone is expected to weight as much as US$125 billion, or 28.4% of the total remittance flows to the developing world.
This juicy market has attracted many fintech entrepreneurs who are all looking to compete against dinosaurs of the likes of Western Union and MoneyGram, by providing cheaper, easier and faster ways of transferring funds across the globe.
Startups like Bitspark, but also Cash2VN, Coins.ph, and Rebit.ph, are among the many platforms that are using bitcoin to power these global remittances. Also knows in the jargon as 'rebittances,' these startups offer a way to users to send and receive almost instantly money from friends and relatives located abroad.
Bitspark Joins Accenture Fintech Innovation Lab
Bitspark has also been selected to participate in the 2015 Fintech Innovation Lab Asia-Pacific. Following the 12-month program, the seven selected startups will have the opportunity to pitch their product to potential investors and industry experts.
Accenture's Fintech Innovation Lab, a program launched last year with support from banks and financial institutions such as Bank of America Merrill Lynch, China Construction Bank, China Citic Bank International, Commonwealth Bank of Australia, Credit Suisse, Goldman Sachs, HSBC, J.P. Morgan, Maybank, Morgan Stanley, Standard Chartered and UBS, aims to nurture early-stage fintech startups that are eyeing the Asia-Pacific region.
"It's exciting working with entrepreneurs," Jon Allaway, senior managing director, Financial Services at Accenture, said. "Like Accenture, they envisage a future where technology solutions not only arm financial institutions with far-more-sophisticated, fine-tuned data but also make everyday transactions simpler for consumers."
Bitspark, along with six other companies from various niches that include cyber-security, behavioral analytics, wealth management and payments, will follow a one-year program and receive mentoring from leading industry executives.
Among the seven companies selected is also Sparro, a payment system built on top of the Ripple protocol, next to Bitspark the two only cryptocurrency startups.
Prior to its admission to Accenture's 2015 Fintech Innovation Lab Asia-Pacific, Bitspark has been selected as one of the finalists of SWIFT Innotribe Startup Challenge, and will be competing at Sibos 2015 in Singapore in October.
The seven participants of Accenture's 2015 Fintech Innovation Lab Asia-Pacific includes Bitspark, BondIT, Ironfly Technologies, Moroku, Sparro, Sybenetix and Uniken.
Learn more about the program at: http://www.fintechinnovationlabapac.com/
Stay tuned about Singapore Fintech News
Check; www.Fintechnews.SG