2014 witnesses the significant growth of social media on financial markets, which has quickly delivered new data from both financial professionals and market participants. It is expected that applying social media marks a new stage of a new valuable tool of finance analytics.
Nowadays, Social Media continues to expand at breakneck pace with about 12 social media platforms and more than 100 million users. From the year 2004, Facebook was first launched, the quantity of profiles on all networks has increased to 5.7 billion. Not only individuals find multiple social networks helpful but businesses and governments also take advantages of them from micro blogging platforms like Twitter and Google+ to rich blogging platforms like Tumblr, Facebook.
Although, evolving in a similar pattern to brand analytics, Social media content can be applicable to finance in 3-plus year later. What is more, data from Social Media is now being adopted, monitored and analyzed in the finance analytics space and financial market participants will pay attention to and start using these sources soon.
In return, consumer and brand discussions are the base layer that enables marketers and brand managers to create valuable social media analytics. In the very same way, the growth of discussion around capital markets, equities, macroeconomic indicators, FX and breaking news serves as the base layer for valuable social analytics for financial services.
A key factor of financial discussions on social media has been the adoption of the "Cashtag" ("Hashtag" and "Mentiontag" as well). Cashtagging is the practice of adding a "$TICKER(s)" tag to the content to associate the discussion with tradable equities. Cashtagged discussions on Twitter have massively increased from 2011 to 2014, reaching several million messages per quarter.
Cashtagging on Twitter
Source: Twitter
Nevertheless, the market impact was already intense with the help of Social Media in the finance analytics. In 2012, fake tweets about the death of Syrian President Bashar al-Assad sent from an account claimed to be that of Syria's interior minister caused the price of West Texas Intermediate crude to climb by more than $1 to $92.
Crude oil price on 06th August 2012
Source: Bloomberg business week
Moreover, in 2013 the Associated Press was hacked with a fake tweet about explosions at the White House injuring President Obama, which causes quickly selling of S&P futures and buying Treasury 10-year futures.
A fake tweet sent from the Associated Press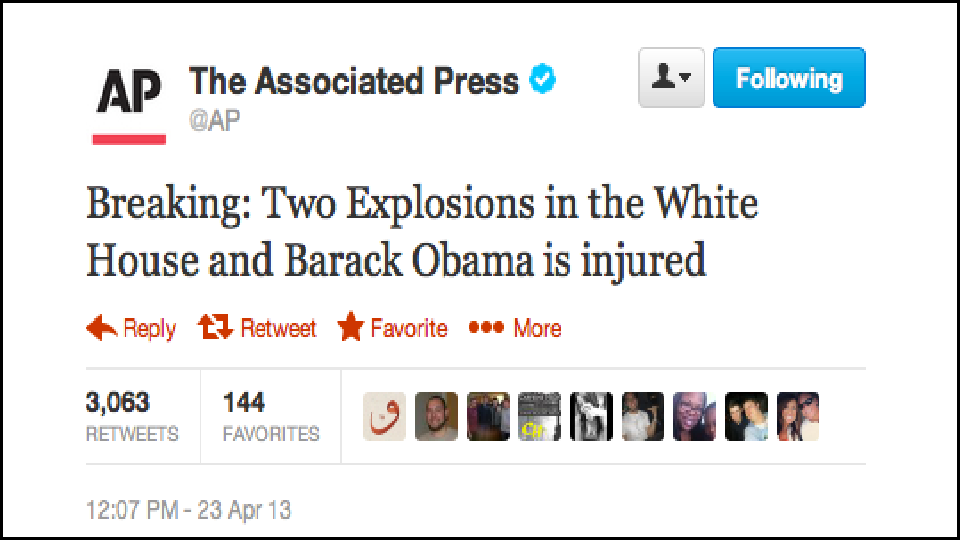 Source: Bloomberg business week
As a result, The Dow Jones Industrial average plunged more than 140 points and bond yields fell, and Reuters estimated that the temporary loss of market cap in the S&P 500 alone totaled $136.5 billion until the Associated Press tweeted to announce that they had been hacked. In a closely linked trade, dollar/yen also plunged temporarily to about 98.60, before recovering to a level above 99.
The Dow Jones Industrial average on 23rd April 2013
Source: Bloomberg business week
Also in 2013 stemming from actual requirements, the Securities and Exchange Commission issued a report that makes clear that companies can use social media outlets like Facebook and Twitter to announce key information in compliance with Regulation Fair Disclosure (Regulation FD) so long as investors have been alerted about which social media will be used to disseminate such information
Since financial social media sites and conversation has grown, analysts, traders, technologists and academics have begun to make sense of the data. There are three use cases being suggested:
equity sentiment analysis
breaking news discovery
macroeconomic trend analysis
Delivering meaningful value and turning broad streams of social data into actionable intelligence is a non-trivial task. Once consuming social data, the start to finish process of analytics has 5 general phases:
sourcing social data
filtering noise
specific filtering
sorting & scoring and aggregation
link to existing data
As financial discussion has become main stream on social media, new tools have come to market. Hedge funds and High Frequency Tradrerswere the leaders in adoption of social data for research and trading use cases, and we see this trend continuing in 2014. But now the broader financial community also has an eye on the pulse of discussion on social media. As the audience demand is broadening, incentives are emerging for new content to find its way to social media platforms. Two interesting areas that are starting to develop are investor relations and sell-side research. As new content sets start being posted to and discussed on social media, even more financial applications become feasible.
This summary is based on the White Paper of GNIP.
More informations:
Twittert mehr Agentur-Falschmeldungen!, scilogs.de