Winterthur-based company Swisspeers has launched a new online platform for P2P business loans, bringing together investors and SMEs looking for capital onto a single place. The solution aims at supporting innovation capabilities of SMEs and strengthening the Swiss economy as a whole.
Founded in 2015 by Alwin Meyer, Andreas Hug and Stefan Nägeli, the company launched its platform in May this year. So far the platform has helped raised over CHF 500,000 in loans, through seven projects each with nine to 18 private investors, Meyer told Schweizeraktien.net in a recent interview.
"We want to establish ourselves in the range from CHF 50,000 to 1 million," Meyer said.
"According to our market surveys, this is where there are the most demands. The supply of credit is not sufficiently ensured in these orders of magnitude through the traditional channels."
Swisspeers seeks to act as an alternative to traditional fixed-interest loans for investors, while enabling SMEs to gain access to a bureaucracy-free financing tool outside of the traditional banking system. It provides complete transparency throughout the process. Swisspeers undertakes the credit evaluation only and provides a recommendation for a risk-adjusted interested rate. The company runs a self-developed financials based commercial credit risk model in order to provide a recommendation for a risk-adjusted interested rate range.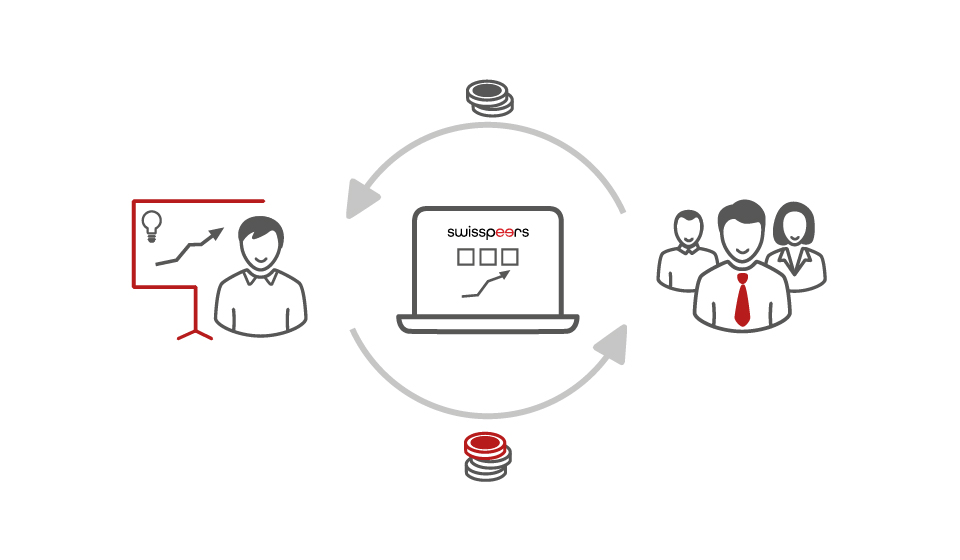 For companies, this means a quick and easy online lending process, fair pricing through credit check and an auction-style method, as well as a number of additional services such as support and advising in meeting documentation requirements for loan applications.
For investors, Swisspeers allows direct investments into local SMEs, attractive returns with minimal fees, a way for supporting Swiss businesses, while overcoming the investment crisis in Swiss franc fixed-rate transactions.
The company has received positive feedbacks so far. "SMEs appreciate the simple, convenient, anywhere, anytime alternative," Meyer said.
"On the investor side, they see an opportunity to achieve a positive return. […] Many investors started investing with minimal amounts in order to test the new investment opportunity. After the first positive experience, they begin to invest in more loans and build up a portfolio."
Alongside Swisspeers, there are currently six other crowdlending platforms in Switzerland: Cashare, CreditGate24, creditworld, Lend  and splendit (Student-credits) according to a report by the Institute of Financial Services Zug IFZ and Swisscom. Creditgate24 and Cashare are targeting Retail clients and SMEs , Swisspeers, Creditworld only SMEs and Lend is focussing until now on Retail clients only.
In 2015, CHF 27.3 million (+73%) was raised for 1,342 campaigns in Switzerland. Crowdlending posted the highest growth from 2014 to 2015 (+127%, to CHF 7.9 million).
"We are expecting 2016 to see at least a doubling of sums raised in the Swiss crowdfunding market – driven, in particular, by lending to SMEs and real estate crowdfunding," the report says.