Robo-advisors are expanding fast. Fueled by VC investments, these fintech startups are currently handling some US$14 billion worth of assets and are now looking to collaborate with traditional advisors, according to a new report.
Authored by international consulting firm Chappuis Halder & Cie., the "Investment Advisory: The rise of the robots" report addresses the growing industry of robo-advisors.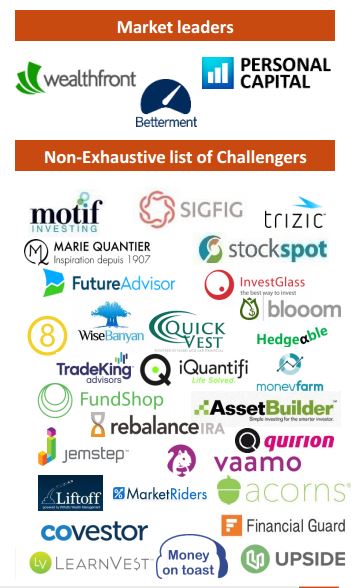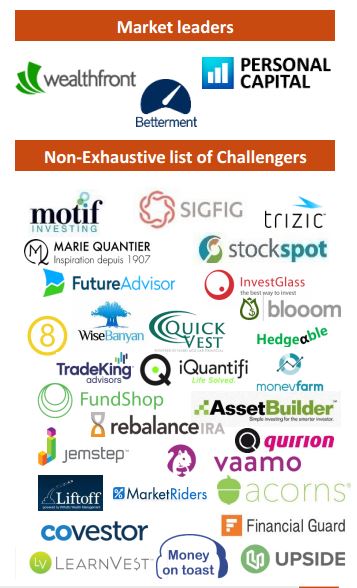 Robo-advisors are online wealth management platforms that use technology to provide automated, algorithm-based portfolio management advice, limiting the need of human intervention.
While the industry is still nascent, it is growing at an impressive pace with several companies already managing over US$1 billion worth of assets, according to the report.
Two companies are currently leading the market: Wealthfront, with over US$2.2 billion in assets under management and 20,000 investors; and Betterment, with over US$1.4 billion and 70,000 investors.
The report further highlights a new emerging trend, suggesting that traditional advisors and robo-advisors are starting to collaborate.
On one hand, robo-advisors such as Betterment Institutional, Motif Investing and iQuantifi, are offering platforms dedicated to traditional advisors, designed to make them more effective in their work, take care of more clients and simplify relationship between both of them. An example is Fidelity, an American multinational financial services corporation, which is partnering with Betterment to offer robot-advisors tools to their 3,000 registered investment advisors firms.
On the other hand, investment management programs are expanding their services with robo-advisors. An example is Envestnet, which acquired Upside in February 2015 and launched "Adviser Now," a digital advice portal helping independent advisors add value to their services.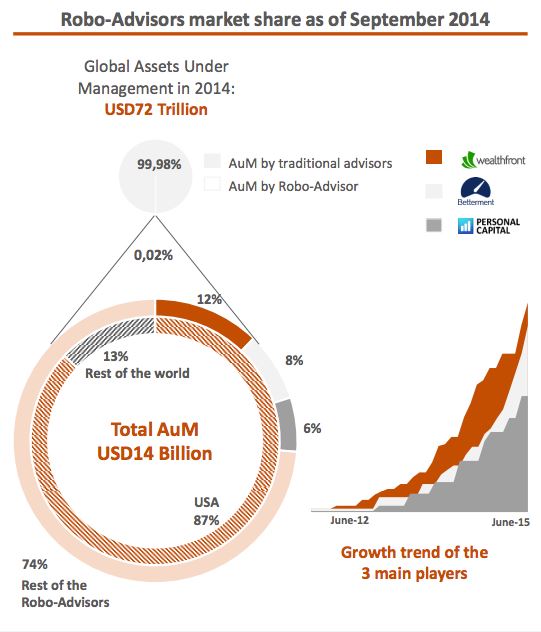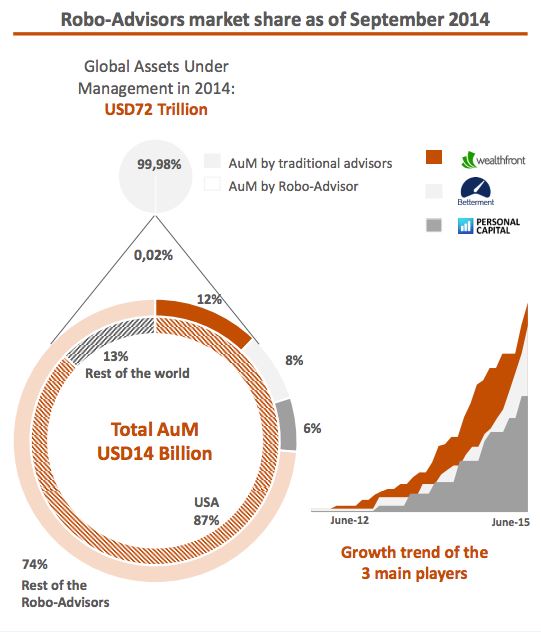 Asian Internet leaders
While the US is largely leading the way, Asia is waking up to this new trend with top tech firms breaking into wealth management.
According to the report, 5 out of 6 major Internet companies in Asia have already entered the market. One of these firms is TenCent, which proposes a wealth management service through its famous messaging app WeChat.
Looking at Internet and mobile penetration rates, Asia is believed to be a fertile ground for robo-advisors. China, arguably, has become the fastest-moving and most innovative market for online sales of investment products and services, according to the Financial Times.
In Japan, 8 Securities, a mobile trading and investing service in Asia, has released earlier this year the continent's very first robo-advisor service called 8 Now!.
Active in both Japan and Hong Kong, 8 Now! allows the mass affluent to invest any asset volume above US$1,000.
"Japan is experiencing one of the largest generational shifts of wealth in history," said Mikaal Abdulla, CEO of 8 Securities.
Japan possesses $17 trillion in investable assets. However, the Millennial generation are being grossly underserved by Japan's banks. While older investors may prefer to use a bank or traditional advisors, the next generation of wealth in Japan will be managed on a smartphone.
Switzerland: a challenging market
While robo-advisers seem to have a bright future in emerging markets, Switzerland is said to be "one of the most challenging market" notably due to its banking secrecy, the report reads.
Despite the challenges, InvestGlass, the country's very first platform providing tailor made automated suggestions on asset re-allocation, compliant products and news feeds, launched earlier this year.
The Geneva-based startup provides an automated intelligent financial platform enabling wealth managers and professional investors to navigate through clients' investments, compliance, and investment convictions.
InvestGlass is not targeting individuals which are seeking fully automated portfolio re-balancing platforms but people looking for automated tailor made information and suggestions to improve the management of their portfolio.
InvestGlass currently serves 50 independent users and one institution, Geneva's bank Syz. The startup is looking to expand to the UK.
Other Swiss ETFs Robo-Advisers, which are are not mentioned in the Chappuis Halder report, are the Fintech Startup Truewealth, Glarner Cantonal Banks Investomat and VZ Vermögenszentrum. Furthermore Swissquote Bank offers Online Private Banking services .
However, those company are mentioned in a recent Swisscom report (in German) about Digital Investment in Switzerland. (also source for following overview)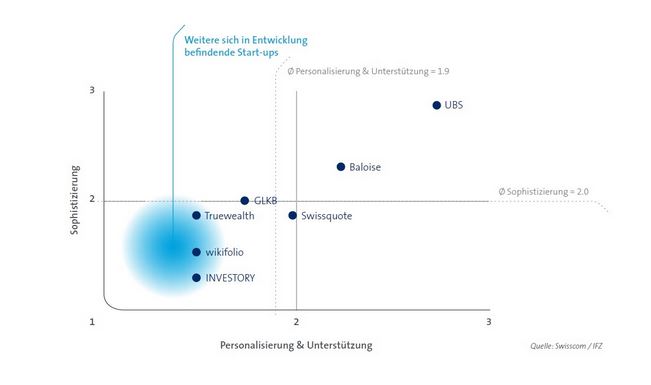 Read the full Chappuis Halder report at: http://investglass.com/images/press/Investment-Advisory-The-rise-of-the-Robots-Chappuis-Halder-InvestGlass.pdf
——————————————————————————-
Also stay tuned about Fintech Singapore/Asia here and about Fintech Switzerland here