Toast, a startup that provides remittance services to Singapore's migrant workers, is using the bitcoin blockchain to make money transfers faster, cheaper and more convenient for all customers.
Most migrant workers, who send up to half of their salary to their country of origin once per month, must undergo a complicated and impractical process in order to send money back home.
Lower-skilled workers are typically paid in cash and tend not to have a bank account. For this labor class, the process of sending money abroad is even harder and costly.
It costs at least 5% of their paycheck. Sometimes even up to 20%, dof high fix fees. Now Toast, a startup based in Singapore, wants to change that by providing a more efficient and cost-effective solution for unbanked migrant workers living in Singapore.
The process of transferring money through Toast is quite easy and doesn't require any party to have a bank account. First, you need to credit your Toast account. This can easily be done by using your EZ Link card via NFC in the mobile app, or via a pre-paid top up card.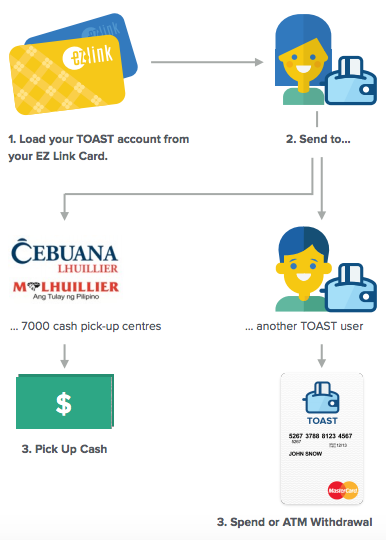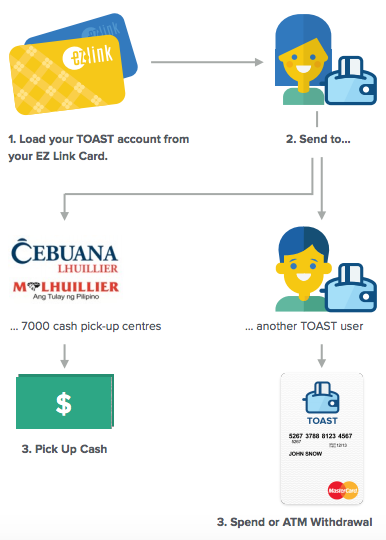 When your Toast account is loaded, you can choose to send funds to another Toast user, who will be able to spend and withdraw the funds via a Toast MasterCard, or to a non-Toast user, who will have the ability to choose among the 7,000 different locations where they can pick up the funds in cash.
For that service, Toast charges 2.5%, a fairly low commission rate with ZERO hidden Forex charges. Compared to the likes of MoneyGram or Western Union a really fair deal.
While Toast's platform uses the blockchain, bitcoin never enters the equation for end-users.
"Our reasoning was that if you're remitting money, you don't care what technical process is used to deliver it – it could even be homing pigeons for all the end user cares -, they just want the money to get there secure cheap & fast/efficient manner," Aaron Siwoku, CEO and founder of Toast, said.
This same reasoning had led the company to rebrand in July, ditching Cryptosigma for the more generalist Toast.
Cryptosigma, a bitcoin exchange and wallet service with an 'Auto-Exchange' function, was lacking both a story and a purpose. Additionally, the product was still too difficult to use for the average individual.
"The big problem we became aware of was that educating the mass market to use something as radically different as Bitcoin, not just in concept, but in terms of buying experience is still incredibly complicated," Siwoku said.
We needed to find a better product market fit, the hard reality was we didn't really have one. Who were we going to build this product for other than hardcore Bitcoin geeks like ourselves, and what was the problem we were trying to solve.
Now with a clear perspective, Toast is looking to raise US$750,000 in a seed round and has already half the funds committed, Siwoku told e27. But the startup has global plans and its longer-term vision is to head towards a US$60 million Series A round.
The startup will officially launch in November this year and until then it will continue to operate in beta mode.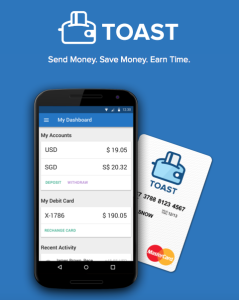 Toast is currently in the process of applying for remittance licenses in both Hong Kong and Singapore. Aside from partnering with MasterCard to provide Toast debit cards, the startup is in the early stages of partnership discussions with a large multinational investment banking firm regarding the possibility of a joint venture.
The deal would allow Toast to serve the remittance needs of migrant workers in France, sending money from Europe to Africa.
Siwoku concluded:
From there we hope to rapidly grow not only to serve Filipinos who need to send an international money transfer from Singapore to the Philippines but be able to serve anyone who needs to send an international money transfer from anywhere to anywhere.

————————————————————————————————————————————————————————————————
You may also Like this Article:
A Similar business modell from Hong Kong's based Bitspark
Read here
————————————————————————————————————————————————————————————————
Stay tuned about Singapore Fintech: www.Fintechnews.SG