Kashmi, pronounced 'cash-me', is a social peer-to-peer payment platform developed by a team of Sri Lankans for the Singaporean market. The startup provides a mobile application that allows users to pay their friends instantly and in a convenient matter and is betting on what it calls a "payments feed" to make peer-to-peer transfers fun and social.
Social payments apps, a new generation of applications that combines social media features and payment functionalities, have gained much popularity notably for their convenience and ease of use.
Today, startups such as Fastacash and Snapcash, have attracted the interest of both the public and investors. Not only we've seen a surge in the number of dedicated companies, but tech giants such as Facebook, Twitter, WeChat, KakaoTalk and Line, have also hit the market with similar products.
Now Kashmi, a startup accelerated by Startupbootcamp Fintech Singapore 2015 program, is looking to transform the way young Singaporeans pay their friends and families by bringing payments "to life". Its goal: making peer-to-peer payments fun within the context of a rich, social ecosystem, according to founder and CEO Rahkil Fernando.

Through the mobile app, users can chat with friends and pay as they go. The app also allows them to track, organize their payments, and see what their friends are doing payment-wise by looking into what the startup calls a "payments feed," Kashmi's differentiator.
It's creating an ecosystem of something called a payments feed where you can see what payments your friends are up to," Fernando said.
"You are making this ecosystem using your address book on your phone. So it's linking all your addresses of your contracts. It allows you to follow your friends and see what they are up to with the payments they make."
In addition to the payments feed, Kashmi has also included a chat feature where users can communicate with friends and make payments within the messaging app, a feature that Facebook has also started to deploy in the US.
"That will create a seamless settlement cycle with friends versus having to going on a different application to complete the transaction," Fernando explained.
No Fee
As of its revenue model, Kashmi doesn't charge any fee for transaction within the Kashmi network. However, users are charged 3% when they top-up their digital wallet or "cash-in," a process that can be done by using a credit card, debit card or by bank wire from a Singaporean bank.
"Our target market is predominantly university students and young professionals," Fernando said.
"What we've seen is that this demographic usually goes out with their friends a lot, constantly using IOU exchanges. So we want to make it easy for them to collect on these IOUs and make payments different."
Such an app is particularly valuable for young people who place high value on relatively small amounts of money or would like to be able to access their credit to handle debts between individuals, the company argues.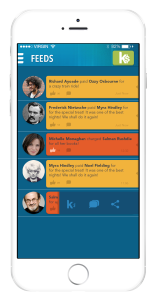 While payments startups would typically look to partner with financial institutions, banks and related companies to gain mass adoption, Kashmi is betting on another strategy: partnering directly with universities to have their freshmen and incoming freshmen starting using the mobile app.
Incorporated in 2014 in Singapore, Kashmi hopes to release its beta version in the coming months. Following its first launch in Singapore, the startup plans to expand to Hong Kong and Malaysia.
Without a doubt, social payments apps are starting to flood the market. Fastacash, HomePay, SnapCash, Kashmi, are only of few of them that are either already available or soon to be launched.
However, it is still unsure which one of these products will become the killer app. What is sure though, is that not all of them will reach mass adoption and become truly successful.
Watch Kashmi's Rahkil Fernando's interview: