CoAssets is a Singapore-based real estate crowdfunding platform, business network and educational interface for real estate and crowdfunding enthusiasts.
Launched in July 2013, the platform aims to "match make" property deals with investors and was the very first real estate crowdfunding platform in Southeast Asia. The startup was incubated by Expara Pte. Ltd., a venture fund established in Singapore since 2003 that focuses on the interactive and digital media space.
Apart from listing crowdfunding campaigns, CoAssets also lists bulk purchases, allowing investors to invest in multiple real estate units at the same time; and pre-sales, allowing investors to purchase units before their official launch. Individuals can commit as little as S$1,000 to become a shareholder in a listed real estate projects.
The platform lists projects from nine countries, including Malaysia, the Philippines, Thailand, Cambodia, Australia, China, Japan, the UK and the USA.
So far, the company has helped crowdfund more than S$39 million for over 15 residential and commercial projects in Asia, with an average return of 6 to 17%, co-founder and CEO Getty Goh, told CNBC.
CoAssets does not invest in any of the listed property projects in order to "maintain neutrality."

"CoAssets aims to empower the consumers," the company claims on its website. "Hence, apart from viewing available projects, users can be updated on the latest regional real estate and crowdfunding news."
Global expansion
Since July, CoAssets has been listed on the National Stock Exchange of Australia (NSX), the country's second largest stock exchange. The company further said it will diversify its offerings and should start allowing peer-to-peer lending for businesses outside of the real estate industry.
"Businesses looking for short-term trade financing of more than S$100,000, can now look to CoAssets' online platform for crowdfunding within a maximum period of one year," the company wrote in a release.
According to Goh, CoAssets' listing on NSX will support both the company's expansion efforts and increase investment potential. Although Singapore has a good startup ecosystem, "more effort is needed for certain growth stage companies," he said.
Goh further told CNBC:
"Even though Singapore is transparent, the market size is relatively smaller so for crowdfunding to take off, we need to look beyond Singapore […] We want to kill two birds with one stone this time round in Australia: to list and engage Australian investors in a better position."
The year 2015 marks CoAsserts' expansion to Australia, Goh said. He believes that the country is a fertile ground for Internet-based companies compared to other locations in the region.
In the APAC region, however, competition is fierce. In Singapore, platforms such as FundPlaces and DomaCom, are already offering similar services. In Australia, young companies that include CrowdfundUp and BrickX are also eyeing the popular crowdfunding market.
Despite the competition, Goh remains confident and believes his startup is one step ahead of other players. He said:
"We have been up and running for the past two years and have raised more than S$36 million for our crowdfunding deals, but our competitors are still mostly in the startup phase. We are at a different stage of growth."
Following Australia, CoAssets seeks to penetrate two other Southeast Asian markets: Malaysia and Indonesia. In Malaysia, the company is looking to operate an equity crowdfunding platform.
In reference to the establishment of the ASEAN Economic Community, set to take place at the end of the year, Goh said:
"We are optimistic on Australia and Asia; without a doubt, this model works in this region. Our next project is to harmonize these markets in light of the ASEAN integration, which is exciting."
Market education
In March, CoAssets teamed up with two other Singaporean crowdfunding platforms: FundedByMe and New Union. The collaboration aims to grow the Southeast Asian crowdfunding industry and seeks to work with regulators to broaden the scope of equity crowdfunding in Singapore, a spokesperson for the alliance told the Business Times.
The three platforms operate independently but are joining forces by pooling their resources and network and play off one another's "unique strengths."
"The biggest challenge is market education," the spokesperson said. "Yet, many people have a narrow view of crowdfunding, and many businesses who like the idea of crowdfunding don't know how to go about tapping its potential."
According to Crowdfunding.org, the industry is set to double this year to over US$34 billion. Singapore has claimed it is looking to position itself as a "premier equity crowdfunding hub" in Asia, an opportunity for local players.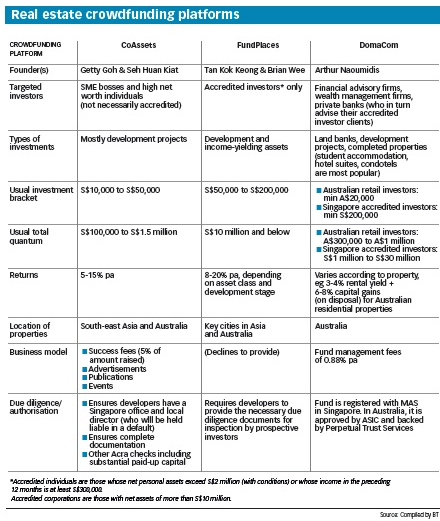 ..