ETC Group, an issuer of digital asset backed securities, has announced that its rapidly growing Bitcoin ETC, BTCetc Bitcoin Exchange Traded Crypto (BTCE), which reached $500 million in assets under management (AuM) last week, will be listed on the Swiss stock exchange, SIX.
The BTCE listing will trade in three currencies on SIX; US Dollars (USD), Swiss Francs (CHF) and British Pounds (GBP).This will be the ETP's second listing, after it listed on Deutsche Börse's XETRA platform in June 2020.
Investors can purchase BTCE through their regular broker or bank with access to SIX, and individuals or institutions wanting to exchange their bitcoin holdings directly for the product can do so via the network of Authorised Participants of the Issuer. As well as now being listed on SIX and XETRA, BTCE is also passported to several countries across Europe.
The exchange traded cryptocurrency (ETC), which is available on HANetf's white label ETP platform, is 100% physically backed, providing investors with a safe and transparent way to gain exposure to Bitcoin.
Traded on regulated markets, investors can buy and sell the product in the same way they would when trading conventional shares or ETPs. BTCE is structured as an ETC that is physically backed by bitcoin. Each unit of BTCE gives the holder a claim on a predefined amount of Bitcoin – a structure very similar to physically-backed gold exchange traded commodities, and allows investors the option for redemption in Bitcoin. For every unit of BTCE, there is Bitcoin stored in regulated, institutional-grade safe custody. The entire ETC structure is based on a transparent and verifiable process to ensure that the provenance of all Bitcoin in custody has been strictly vetted.
Investors aren't required to engage with the technical challenges of purchasing and storing Bitcoin such as setting up a cryptocurrency wallet or trading on unregulated crypto exchanges and there is no need to manage cryptographic keys or engage with blockchain technology. Units of BTCE are safely held with the investor's securities broker or bank, thus removing the risk of losing the investment because of, for instance, lack of knowledge of how cryptographic keys work.
BTCE is supported by a network of world class Authorised Participants (APs) and Market Makers, experienced in cryptocurrency markets as well as the ETP markets. The APs ensure on-exchange liquidity and tight spreads, enabling traders to purchase in all sizes without having to worry about market impact.
Bradley Duke, CEO of ETC Group said:
"BTCE enjoyed incredible growth in 2020, with the value of bitcoin increasing by 316%. Past performance is no guarantee of future performance. BTCetc Bitcoin Exchange Traded Crypto – (BTCE) brings to the world of Bitcoin the transparency and investor protection that regulators and institutional investors require, and we are very excited to be listing in Switzerland, which is one of the most advanced markets for digital and crypto assets anywhere in the world."

"Investors are adding Bitcoin to their portfolios because of concerns around the devaluation of major currencies related to governments funding COVID financial rescue packages through increased money supply. BTCE tracks the price of Bitcoin very closely and is highly liquid and trades with very tight spreads making it the vehicle of choice for many investors to gain exposure to physical Bitcoin."
Hector McNeil, co-Founder and co-CEO at HANetf, said:
"BTCE has seen some of the strongest growth of any ETP in the world, and listing on SIX will only strengthen this further. Bitcoin has crashed through the psychologically important valuation barrier of $40,000, and long-term we expect this to be one of the best performing assets."
Product Information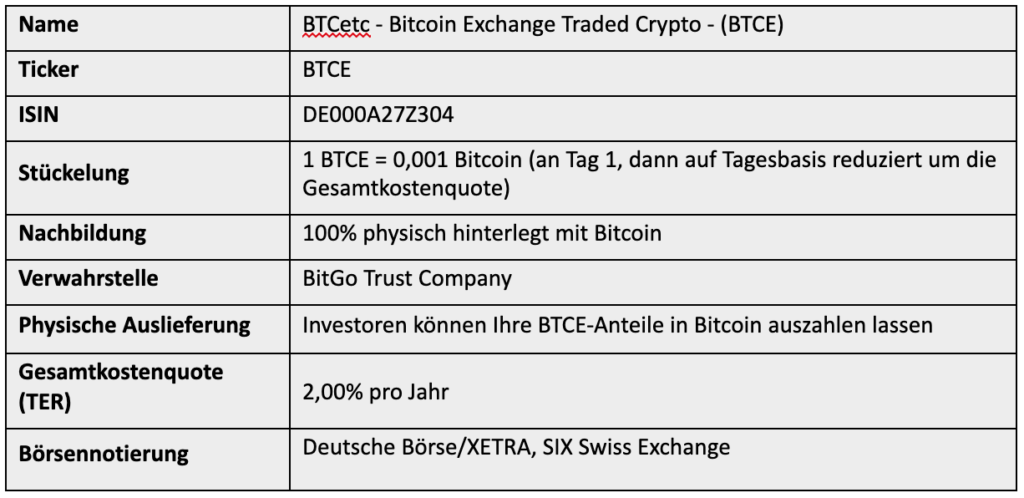 Product Identifiers: